Theatres of War was the winner of The People's Book Prize (Fiction) 2013/14.
On the landing beaches at Salerno in September 1943 two soldiers face the German bombardment together but they come from different worlds. Frank grew up in the backstreets of London but he's clever and is now an officer; Edmund is a cricketer from a landed family.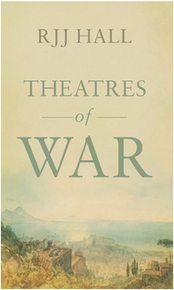 Vermillion had fallen for Edmund in Cairo where she monitored German communications. Desperate to see him again she gets transferred to Intelligence in Naples. But when Frank discovers an abandoned theatre and stages a revue, she can't stay away. It proves such a success that Frank is ordered to stay in Naples and put on more shows. Vermillion joins him and her life becomes enmeshed with both men.
While Edmund fights in the bitter winter battles near Monte Cassino, Frank dreams of staging an opera. Vermillion still loves Edmund but she doesn't want him running her life. And working with Frank she experiences the independence she's longed for. 
Vermillion feels fulfilled, but a time is soon coming when she'll have to choose…
Click on the image of the book cover and you will be taken to the publisher's website where you can purchase the paperback or the ebook. Or click on amazon.co.uk to be taken to the relevant page of their UK site.
You can read the first chapters here - by clicking on the words in bold. To return to this site, click on the reverse arrow on your web browser.
The cover image of the book is a detail from a painting of Naples and Vesuvius by JMW Turner, courtesy of the Tate.